Here are couple pictures by Marc Dodge from the 1973 ISDT.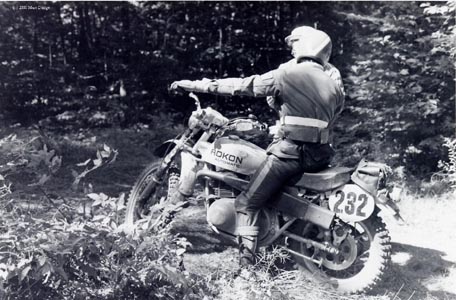 This is #232, Jim Fogle. He won a Bronze riding on the Rokon team.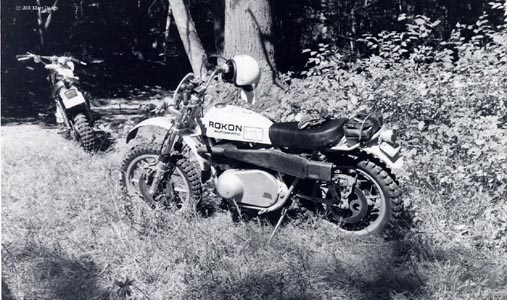 This is yours truly. I don't remember where on the course I took this one, but it had to be the day it didn't rain.

---
Back to Rokon History Page Index
---

These pictures of the 1973 ISDT held in Dalton, Massachusetts, USA were provided by Don Jones
Rokons finished in the following order in the 350cc Class
13th Gary Snider Rokon Silver
15th Jim Fogle Rokon Bronze
17th Ron LaMastus Rokon Bronze
18th Jim Simmons Rokon Bronze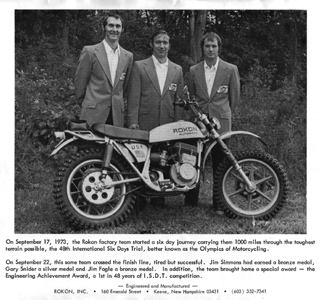 Team Rokon Jim Simmons (Bronze) Gary Snider (Silver) Jim Fogle (Bronze)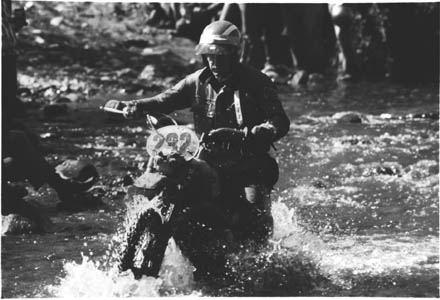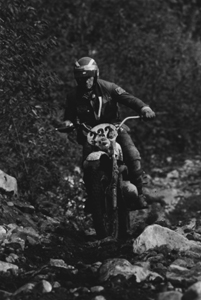 #232 Jim Fogle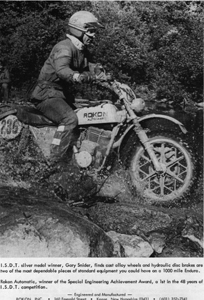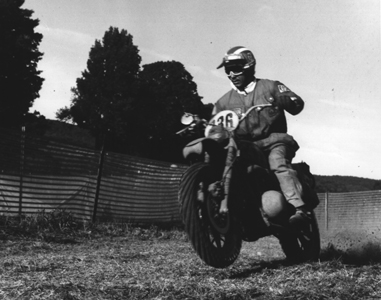 #236 Gary Snider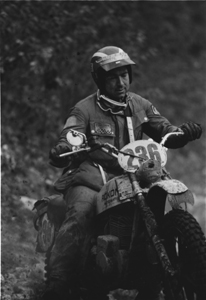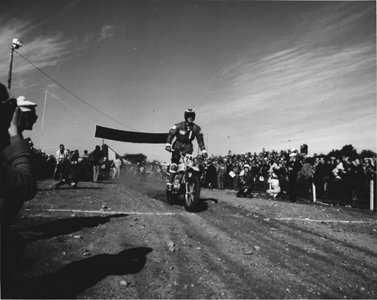 #244 Jim Simmons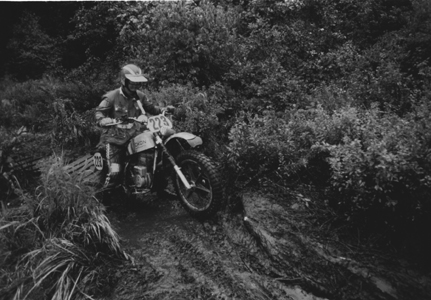 #223 Ron LaMastus

---
Back to Rokon History Page Index
---

Jim Hollander came through on my request for old Rokon stuff. Here's what he sent.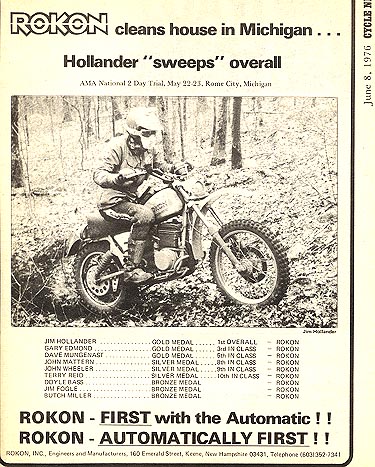 ---
Back to Rokon History Page Index
---
List of preparation work to be done on the Rokon for the 1975 ISDT in England:
1. Dome the rear brake piston - reduces heat transfer to the brake fluid, and allows the brake pad to pivot as needed. (Rectangular brake pad style)
2. Quick detach torque convertor dzus fasteners on the cover, can be removed with screwdriver.
3. Quick detach (QD) rear driven convertor clip instead of the 916" head bolt. Install a bolt with head machined off in lathe, drill hole for quick detach angel clip.
4. QD tool pack fasteners from Hi- Point boots.
5. QD fork pinch bolts
6. Rubber guide ring for throttle cables near lower front of gas tank.
7. Velcro attached flap on torque converter cover, in front to keep mud and water out.
8. Spare carb needle clip duct taped to air box on right side of bike, in case you drop original.
9. Spare left side footpeg with nut and bolt.
10. WM-1 Sun Wheel (brand) front rim with front axle welded with short lever handle (4")
11. Plastic lexan shield protecting headlight bulb.
12. Rider's wrench kept on left side crash guard with rubber bands.
13. Pouch behind right side number plast holding miniature air bottle and tire irons, number plate secured with pivot and dzus fastener.
14. Cut down front sprocket guard and silicone it in place as backup to bolts.
15. Slot the screws on the float bowl cover for straight screwdriver
16. Slot the front carb clamp screw for straight screwdriver.
17. Tape spare muffler stud nut on frame behind seat, and use silicone on stud nut on the muffler.
18. Miniature can of dri-slide or sewing machine oil for throttle cable maintenance.
19. 1.5" extra foam padding under original seal foam.
20. Long wire ties stored on the front number plate (feed into the wire ties holding the number plate on.
21. Cut down screwdriver stored in steering stem hole and secured with rubber band.
22. Time card holder with plastic checkpoint times window, and storage for wire ties.
23. Painted valve stem areas with bright red paint for easy location of valve stem when checking air or chaing flats.
24. Replace top half of Preston Petty numberplate/headlight combination unit with regular number plate (which is more flexible and won't break)
25. Modify drive torque Convertor bolt so the hex size matches the rear axle nut and can use rider's wrench on it. (15/16")
26. Drill and tap the front hub with 3/8-24 thread for quick detach bolts to be run through brake discs. This saves time if disc has to be changed, rather than having to use a ratchet and a 9/16" wrench fed into the spokes to hold the nuts.
27. Pop rivets in rear rim to help hold tire edge in place when low tire pressure. Drill hole for rim lock.
28. Duct tape inside of the Sun Wheel spoked wheel - two layers.
29. Antiseize solution on the threads of the chain adusters.
30. Water baffle cup and shield on the pull starter area.
31. Double thickness steel head-steady bracket, mig welded, loctited on mating surfaces when bolted to engine and frame.
32. Can of LPS25 spary for the ignition, or "ESP" spray.
33. Drilled and tapped spare screw and hole in the brake backing plates.
34. Modify bolt that holds rotomolded gas tank on by slotting it for screwdriver.
35. Grease fittings installed in the front brake pivot area
36. Install Malcolm Smith 6" rise handelbars - solid aluaminum.
37. Radius the handlebar clamps with rat-tail file where the handlebars might be stressed over time.
38. Install plastic box (Rubbermaid tupperware type) from store in the leather tool pack.
39. Friction tape under the grips, install with contact spray.
40. Spare rear axle nut taped to frame.
41. Lodge brand spark plug cap, siliconed in place.
42. Rubber flap around spark plug to minimize mud buildup around spark plug.
43. Cut down front brake lever length so won't break on crashing.
44. Extra carb needle taped on air box.
45. 13 tooth front sprocket Use "O-ring" Chain Gang chain.
46. Insert Filtron foam strips under the fork tube wipers, use Husqvarna fork boots over all.
47. 16 lb. Pencil tire gauge, from Rokon Trailbreaker stuff.
48. Never-seize the fork pinch bolts in the triple clamp area.
49. Break in the spare chain for replacement later in race.
50. Dri-slide treat the throttle cable and the spare, and tape spare parallel with original.
51. Duct tape top of downtubes to prevent mud splatter onto cylinder head of engine.
52. Spare kill button spring taped to handlebar.
53. Install vent tube on the rear brake master cylinder cover to prevent mud entry, shaped to prevent water and mud entry.
54. Install air valves atop forks, 14 psi.
55. Store rubber bands on fork steering stops.
56. 300-21 spare inner tube on bike behind seat. Spare drive belt located around headlight. Kawasaki compressed air bottles in tool pack.
---
Back to Rokon History Page Index
---